The food delivery service launched a humorous campaign featuring actor Jon Hamm during the NHL season opener.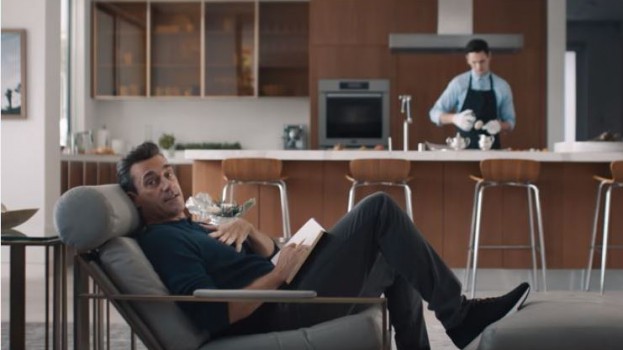 TORONTO, ON - October 9, 2018 - Roughly one year after having incorporated traditional channels into its media mix, food delivery service SkipTheDishes is running a mass play aimed at capturing the hungry audiences of televised hockey.
The campaign launched with "Ordinary Canadian Guy" on Oct. 3, which features American actor Jon Hamm (of Mad Men fame), who plays the role of the "entitled celebrity," a theme that will run across two additional future commercials on TV and digital.
In the spot, which Hamm himself helped develop, the actor presents himself as an "ordinary Canadian" (born and raised in St. Louis, Missouri) who claims to do chores, is a big-time hockey fan and orders food from SkipTheDishes (or rather, has his helper do it for him).
Its humorous, tongue-and-cheek approach is representative of how SkipTheDishes has sought to create a "personality" for itself in its advertising, with the goal of differentiating in a category that has become much more competitive over the years, says Kevin Edwards, CMO at SkipTheDishes. He joined the company in the spring, after having served in the same role at the Movember Foundation since 2016.
With the new campaign, the brand wanted to maintain its "sense of humour," while taking that positioning further with the help of a celebrity, he says.
Previous efforts have included the innuendo-heavy "Couples" commercial from January, in which the act of ordering from SkipTheDishes is humorously compared with couples' activities in the bedroom. The new concept playing off celebrity entitlement is meant to let customers know they deserve the food they want – wherever and whenever they want it, says Edwards.
"Ordinary Canadian Guy" is the first of three ads led by creative agency Arrivals + Departures, which won a pitch for the business in July. It first aired during the NHL regular season opener that saw the Montreal Canadiens face off against the Toronto Maple Leafs, and is part of a larger partnership between SkipTheDishes and every Canadian NHL team (except for the Maple Leafs) that includes ad placement on rink boards and throughout the arenas.
With media handled by True Media Toronto, Edwards says the strategy is built around finding "primetime audiences." In addition to there being no "bigger moment" this fall than the meeting of two of hockey's biggest rivals, the sports alignment will help SkipTheDishes tap into moments when people are interested in enjoying food experiences and may be getting ready to settle in for the evening, he says. North Strategic is supporting on PR.
Founded in Winnipeg in 2012, SkipTheDishes has grown to serve 110 markets across Canada, including an additional 38 over the last year. In its early days, the brand refrained from taking on the Toronto market, which it has since made a priority, along with Montreal.
Given its focus on Toronto, it would be "wonderful" to have partnered with the Maple Leads on the campaign, says Edwards, "but there are lots of competitor partnerships out there and we just chose to concentrate on the six markets that we have some history in."

READ MORE ABOUT IT
Strategy (Direct Article Link)